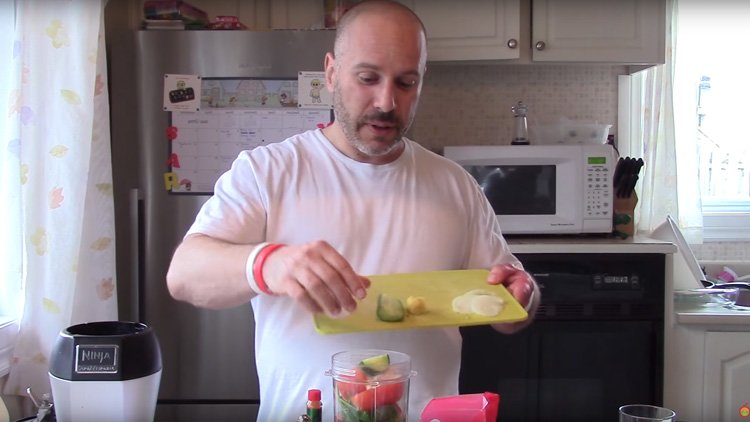 Juicing healing foods to help wound healing
Hi you, did you watch yesterday video? The focus in it was put on healing foods.
If you haven't, something that I have omitted to say is that I have helped a new member of the team.
To put it another way, there is a proverb that I like to apply and it is:
Strike 2 birds with 1 stone!
I did receive an email from a reader that have a problem with the taste of his own creation. If it did happen to you to have a bad tasting vegetable juice, would you know what to do to fix it?
In fact, most of the time, the answer is very simple and I am exposing it here:
This video is to show a vegetable juice recipe that has the property to speed up wounds healing. For this reason, the key to achieve this goal is to use healing foods as ingredients. If you recently had a surgery or wounded yourself, this juice recipe is perfect for you!
The nutrients that are helping a fast healing are:
This juice contains the following healing foods:
broccoli:
strong positive impact on detox
rich in vitamins
anti-inflammatory
carrot:
vitamin A which stimulates the epothelial tissue
antioxidants
beneficial for cardiovascular health
celery:
antioxidant anti-inflammatory support
cucumber:
ginger:
immune boosting action
aid digestion
Aphrodisiac
onion:
spinach: (In my opinion spinach is a superfood. It contains so many vitamins and essential minerals. So, I just love it. Below is the list of the major ones contained in spinach!)
manganese
vitamin K
vitamin A
folate
magnesium
iron
copper
vitamin B2 and B6
vitamin E
calcium
vitamin C
potassium
vitamin B1
vitamin B3
selenium
tomato:
Have a nice day!
Olivier
Creator of the Juicing For Your Manhood programs and the #1 men's health blog Olivier Health tips main editor. He has developed a new passion for juicing and has done a lot of experiments with foods possessing healing properties. His mission is to teach men to reinvigorate their lives using the power of juicing.
If you like this post, I invite you to click on the red bell icon located in the lower right corner to receive notifications when I publish new articles.
If you have questions for me, you can subscribe to my newsletter and send me an email by replying to the newsletter that you will receive.
Comments